Nina Out and About contains affiliate links and is a member of the Amazon Services LLC Associates Program. If you make a purchase using one of these Amazon links, I may receive compensation at no extra cost to you. See my Disclosure Policy for more information.
25 Pros and Cons of Living in Ottawa, Ontario
Looking for the pros and cons of living in Ottawa? This guide will help you decide whether or not to move here!
Ottawa is a very livable city with plenty of green spaces ankad recreational activities. It's also one of the most affordable major cities in Canada.
If you're looking to work in the government, this is the city for you! But remember that those jobs require bilingual employees.
The downside to living in Ottawa is that winters can be so cold that it feels like you may lose a toe. Luckily, it's very sunny, so at least you'll enjoy the brightness while huddling beneath your winter layers!
Ottawa is a very safe city. Although it's commonly known as the "city that fun forgot" in Canada, it's actually bursting with things to do – even in the winter!
I moved to Ottawa out of duress (aka. living with my family in Toronto for a year due to the pandemic and desperately needing my own place). I visited a friend in Ottawa, then never left!
(Well, I left, but only to pack up and come back 30 days later – but that isn't as catchy.)
I've adored my time in Ottawa and want to share the pros and cons that I've experienced in living here for over a year.
This is the most complete guide to the good and bad things that come with living in Canada's capital city – from the perspective of someone who has actually lived here. You'll learn how to balance the advantages and disadvantages in a way that can make the city work for you.
I'll even highlight some common dealbreakers because it's important that you love where you live when you move abroad.
Join me as I share the pros and cons of living in Ottawa to help you decide if moving to Canada is right for you!
When you're ready to move abroad, find the cheapest flights with this tool.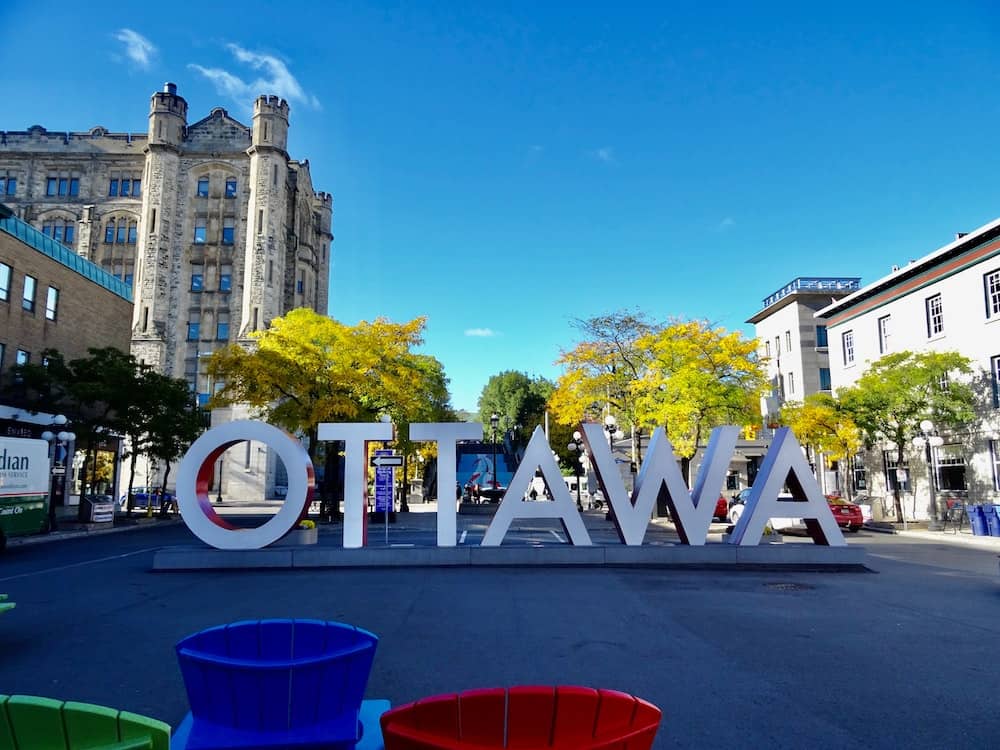 Quick Facts About Ottawa
Ottawa is Canada's capital city. Although Toronto is commonly thought to be the capital of the country, this smaller city of nearly 1.4 million residents (2020) is actually the capital.
Downtown, you'll find the Parliament Buildings. They are home to Canada's federal government, including the Prime Minister, Justin Trudeau (as of 2021). It is also one of the oldest cities in the country, with historic buildings mixed amongst the modern skyscrapers.
Ottawa is a predominantly English-speaking city; however, due to its close border with Quebec and the plethora of government employees, most citizens speak at least conversational French (I am not one of them!). You can get by without knowing any French, but it'll be harder to find government jobs and to get promotions.
The winters in Ottawa are cold. The average temperature in January and February is -15 degrees Celsius. Although it snows less than other Canadian cities (such as Montreal), it is one of the coldest southern cities in the country.
Be sure to bundle up and you'll have no problems! I regularly managed 10km walks in the middle of winter, with temperatures of -25 degrees Celcius thanks to fleece sweaters, insulated down parkas, and fleece leggings.
There are so many fun things to do in Ottawa. My favourite is skating on the Rideau Canal – the longest outdoor ice rink in the world!
If you'd prefer to stay inside, Ottawa is considered the museum capital of Canada. There are nearly a dozen museums in the city centre that feature every topic you can think of. I recommend visiting them in the evenings, when many of them offer free admission.
Between the festivals and the myriad of hiking opportunities, you'll never run out of fun things to do!
The greenery of the city and the rich culture make it one of the best places to live in Canada. With its diverse citizens and the amazing heritage they bring, everyone will feel welcome living in Ottawa.
This is my favourite Ottawa tour for you to see the most of the city!
26 Pros and Cons of Living in Ottawa
Pro: Plethora of Government Jobs
Since the federal government operates out of Ottawa, most of the jobs are related to the government. Of the friends I've made since living in Ottawa, about 80% work for the government in some capacity.
This means it's very easy to find a government job. You'll have a range of departments to choose from.
Government jobs are very desirable in Canada. They offer some of the best benefits programs, including amazing healthcare, and the best retirement packages. Many people work for them solely for retirement plans!
I recommend this platform to find jobs as a foreigner.
Con: You'll Feel Like an Outsider if You Don't Work in Government
If, like me, you don't work for the government while living in Ottawa, you can feel like the odd one out.
Of my friends in Ottawa, about 80% work for the government in some capacity. This doesn't mean they all work together – in fact, most never have any dealings with the others due to the various branches of government and non-profits. But it does mean that when we have dinner, they all have people to talk about that I don't know anything about.
As a newbie, I barely know who the mayor is, let alone any other workers!
This is easily solved by either reading up on some politics or steering the conversation in another direction. Since I made most of my friends at the dog park, showing off some cute puppy photos usually turns things around!
Pro: High Quality of Education
Ottawa has a ton of high-quality universities. The most prestigious is Carleton University, which happens to be where my mom went. It is best known for its journalism program.
Another amazing university is the University of Ottawa. UofO is a well-rounded university with reputable programs in every major you can think of.
Ottawa also has an excellent public school system. You'll find schools located throughout the city. Even the ones downtown look as green and well kept as those in the suburbs!
Con: You May Need to Speak French to Get a Job
Although living in Ottawa gives you access to the benefits of living in the nation's capital, it also brings with it a few challenges.
You may need to know French if you hope to get any jobs in government agencies or corporations.
Many other locations in Canada don't have this problem, since the cities primarily operate in English. To maintain equality, the federal government has mandated that workers speak both French and English. You will even need to pass a certification to ensure your French is up to par.
I got around this by not working for the government, since I basically only know how to say hello and frog.
Need help learning a new language? I recommend iTalki! I've tried ALL the apps, but iTalki is the only way I've managed to learn as much as living in the local country.
Pro: Amazing Festivals
Ottawa is a city that loves to celebrate. Every month, there seems to be at least one festival going on. Sometimes they're just small street festivals, while others they are city or nationwide!
You'll find the Blues Festival, Tulip Festival, and Canada Day celebrations all taking place by Parliament. In winter, there's Winterlude to celebrate the cold the best way we know how: by carving ice sculptures and skating!
Con: Not as Busy as Toronto
I lived in Toronto for my childhood and got used to downtown being so crowded you could barely move your arms on the sidewalk.
Ottawa doesn't have that problem. With nearly half of the residents of Toronto, and what feels like way more space (maybe it's just the greenery), you don't feel quite as claustrophobic.
Pro: Great Bus Network
Ottawa has an excellent bus network. The buses are almost always on time, the drivers are friendly, and they go just about everywhere!
It's easy to find bus stops around the city. With Google Maps, you can find your route with ease. It'll even help you navigate transferring between buses.
I recommend getting a reloadable Ottawa bus card if you're moving to Ottawa. You can upload money to it online, which saves you from having to carry exact change or bus tokens.
Con: No Subway
The closest thing to a subway is the O-Train, which is a light rail that connects downtown Ottawa to the southern suburbs. It's great for getting around those areas, but if you're trying to get around downtown, you won't be able to.
The train is more commonly called the LRT. It's been under construction to extend its reach for seemingly decades, with little hope in sight for the connection to further suburbs to happen anytime soon.
Pro: Cost of Living isn't As Crazy as Toronto
I wouldn't call living in Ottawa inexpensive. However, living here is certainly more affordable than living in big cities like Toronto or Vancouver.
To give you a sense of the cost of living, I'll share my monthly expenses as a single woman living in an apartment downtown:
1 Bedroom Apartment (600+ sq ft) – $1,775
Utilities and Internet – $200
Renter's Insurance – $30
Groceries and 1 Meal Out – $200/week
=$2805/month
=$33,660/year
This is a breakdown of my base expenses. I didn't include transportation costs, which vary between the car-share service I use and bus fare, or entertainment expenses.
I also have a dog to factor in, whose expenses don't appear above.
However, I also chose a large apartment right by Parliament. It's very possible to find cheaper apartments, especially in the suburbs.
The size of apartment I have in Ottawa would have cost me over $3,000 in downtown Toronto.
Con: House Prices Are Sky High
Like most of Canada, and especially its neighbour Toronto, Ottawa has a housing crisis. The prices may not be quite as high as Toronto's, but they're often out of reach for citizens of Ottawa.
You can get a house for $400,000 if you live far outside the city. Most houses downtown that are decrepit and tiny go for nearly $1.5 million.
Most of the desirable houses I've seen that are affordable are in Kanata or Nepean, a significant commute to downtown Ottawa in rush hour.
Pro: Full of Green Spaces
Ottawa is an incredibly green city. There are trees and plants lining every street, and there's a park within walking distance of almost every resident.
The largest green space in Ottawa is Gatineau Park, which is just north of Ottawa on the Quebec side of the river. It's filled with hiking trails, lakes, and wildlife.
Inside the city, the Ottawa River Walkway is an excellent spot for natural views.
Con: Humid Summers and Freezing Winters
Ottawa is notorious for its humid summers and freezing winters. I've never experienced a winter as cold as the one I'm living through now, and the humidity makes summer unbearable for some people.
In 2021, we reached -25 degrees Celcius in February/March and +35 degrees Celcius (that felt like 45 with the humidity) in July/August.
You'll need a good heater and air conditioner to survive in Ottawa!
Pro: Cycling Friendly City
Ottawa is a great city for cycling. There are bike lanes on many of the major streets, and it's easy to find a bike rack to park your bike.
Most of the roads are one-lane, with large bike lanes that even novice bike riders like myself feel comfortable riding in. You'll also find pathways along the river where you can cycle without cars.
On weekends in the summer, the city closes down one side of the John A. MacDonald Parkway – one of the major roadways along the Ottawa River – for cyclists to use.
I love this bike tour of Ottawa!
Con: You'll Need a Car to Adventure and Ottawa's Roads Are Terrible
Ottawa is one of the worst cities I've ever driven in.
The roads are crumbling due to the freeze-thaw cycle each winter. This leads to massive potholes that jar your car so intensely you think you've broken the axel.
It's also full of construction, which makes it really hard to get around. Between that, the one-way roads everywhere, and the share on- and off-ramps on highways, you'll struggle to drive in Ottawa at first.
In winter, it's almost impossible to find the lane in the snow.
Definitely get comfortable behind the wheel to explore Ottawa more thoroughly. You'll need a car to go anywhere outside of downtown Ottawa easily. I use a car-sharing service constantly to go hiking with my pup.
Looking to get around via car? Find the cheapest car rentals here!
Pro: Amazing Things to Do
No matter what your interests are, Ottawa probably has something to offer you.
If you're into nature, there's Gatineau Park and the Rideau Canal. If you're a history buff, Ottawa is home to some of the most important Canadian historical sites, like Parliament Hill and the National War Museum.
There's also a great music and arts scene, with concerts and shows happening every night.
Foodies will love eating out around the city. I'm forever discovering new brunch spots and amazing dinner locations that wow my friends and family.
This is my favourite tour to see Ottawa!
Con: People Will Forever Tell You It's Boring
Ottawa is often called "the city that fun forgot."
Some people love this about Ottawa, while others find it frustrating. If you're looking for lively nightlife and interesting things to do, Ottawa may not be the best choice for you. You'll prefer the hundreds of clubs in Toronto. There are only a few clubs in the Byward Market district, as most students party at home.
But other than a limited club scene (which, let's face it, makes sense in a government town), there's so much fun to be found in Ottawa!
Pro: It's a Very Safe City
Ottawa has a great reputation for living safely.
The crime rate in Ottawa is really low and the city has very few gang problems like in many other cities. Byward Market, near UofO, has the highest crime rate in the city. Some people blame this on the students while others blame the homeless centres and missions in the areas. Whatever the cause, most of the crime is limited to theft.
I opt not to live in that area or to walk there alone at night. Otherwise, I feel completely safe walking at night and exploring the city throughout the day.
I've never even worried about pickpockets (well, I always do, but that's the traveler in me) near Parliament. It's not very common.
Con: There Are a Lot of Homeless People
If you haven't lived downtown before, the number of homeless people will be surprising. In Ottawa, there are a lot of public centres for homeless people to get assistance and food. This makes it a safe place for them to live.
Unlike Toronto, where the homeless people were once gathered up and bussed to Vancouver to make the city look cleaner for a G20 summit (true story!).
It can be alarming at first, especially when homeless people with mental illness talk to themselves on the street. Be polite, but make sure you take care of yourself. Cross the street if you feel unsafe. Give them a polite smile but keep walking.
Bonus Pros of Living in Ottawa:
Pro: High Quality of Life
Ottawa residents enjoy living in a city with great living standards.
The air is clean, the water is safe to drink and the living standard here is higher than in most other cities. Ottawa has been ranked as "the best place to live in Canada" for over 10 years now.
You'll find excellent job opportunities, fabulous restaurants, almost all of the stores you could hope for (with more coming soon!), and lots of helpful infrastructures.
Pro: Excellent Healthcare Facilities
Speaking from experience, the hospital is amazing! One of the best in Canada, based on my emergency room visit in 2021.
At the Ottawa Hospital, I was seen within a few hours (usually emergency room visits take much longer), and was able to schedule follow-up care easily, as well as to have checkups virtually after my x-rays.
👉 Find out how much it costs to protect your trip today with World Nomads travel insurance.
Pro: Ideal For Dog Owners
Ottawa is the most dog-filled city in Canada. I haven't conducted a scientific study, but I'm working on it!
You'll find dog parks every few city blocks. It seems like almost everyone owns a dog. Most apartments are even dog-friendly!
Pro: It's Very Multicultural
Ottawa is a diverse city, with many immigrants living there. Although English and French are the dominant languages, you'll hear many more spoken throughout the city.
Every restaurant in Ottawa offers amazing food from around the world! You can find Spanish tapas or Indian curry easily, even if you don't live downtown. There are Italian restaurants everywhere and even small Chinese noodle shops tucked away in quiet corners of town.
Pro: Strong Sense of Community
Ottawa residents pride themselves on living in a close-knit community.
You'll notice how active and involved the citizens are in their city, no matter where you live.
Most people take care of each other and often look out for strangers walking down the street. Even at the dog park, people actively strike up conversations. On my morning runs, people smile and greet strangers with a cheery "good morning!".
Coming from Toronto, I was astounded!
How to Transfer Money to Canada
Moving to Ottawa requires a lot of steps. One of the biggest ones is sending over money so you can start your life here.
I used to use outdated bank transfers and Paypal, which meant paying HUGE fees and inflated exchange rates. I'd often lose thousands just trying to move my own money.
Then I found Wise.com.
I use them exclusively now to send my money around the world. Whether I'm moving to a new country, taking a gap year, or studying abroad, I've relied on Wise.com to transfer my money for the lowest rates.
If you're skeptical, they even have a tool that will compare their service fees and exchange rates with other providers to prove that they are saving you the most money.
Sign up today to start moving your money to Ottawa securely and without ridiculous added fees.
Click Here to Check Wise's Rates
Get Travel Insurance Before You Move Abroad

Moving abroad is full of hiccups. Protect yourself when things go wrong!
When things don't go to plan, have World Nomads on your side. You don't need the added stress of dealing with medical bills, lost luggage, or delayed flights when things are going awry. You need a travel insurance provider you can trust to get you through the stress and be accessible 24/7.
Whether you need short-term, long-term or budget-friendly coverage, World Nomads has your back.
I've always been able to rely on them when I'm moving to a new country, have had flight cancellations, or had something lost/stolen (these things do happen!).
👉 Find out how much it costs to protect your trip today with World Nomads travel insurance.
Fun Ottawa Tours to Learn the Area
Check out these amazing tours to explore Ottawa!
Wrap Up: Is Ottawa a good place to live?
There are many pros and cons to living in Ottawa. Ultimately, it depends on what you're looking for in a city.
If you're looking for high living standards, excellent healthcare facilities, a multicultural environment, and a strong sense of community, Ottawa is the perfect place for you!
However, if you're not used to living downtown and you don't want to work for the government, Ottawa may not be the best place for you.
What do you think? Is Ottawa a good place to live? Let me know in the comments!
Book cheap airline tickets and accommodations with Booking.com to save money when you're moving abroad!
FAQs Pros and Cons of Living in Ottawa
Living in Ottawa vs Toronto
Ottawa and Toronto both have high standards of living, many job opportunities, and lots of fun things to do.
Most people would assume that living in Toronto is better than living in Ottawa, but I disagree.
Not only is Ottawa's cost of living lower, without sacrificing the quality of life, but it also has more greenery within the city. The fewer people mean more space and less traffic, too!
Living in Ottawa vs Montreal
Ottawa and Montreal are both very multicultural cities, but Montreal is known for its French culture.
Montreal has a much stronger nightlife and it's considered the fashion capital of Canada.
Ottawa is known for being more family-oriented and having a strong sense of community.
You will likely need to know French to work in both cities.
Living in Ottawa Without French
You can live in Ottawa if you don't speak French. However, you'll struggle to get a job in the government or to get promoted.
Instead, work in the private sector to avoid needing to be bilingual.
---
More Blog Posts About Canada:
Pin this for later!
Canada Travel Planning Guide
🚑 Should I buy Canada travel insurance?
100% YES! — Canada has "free" healthcare but it's only for citizens! Foreigners visiting need travel insurance in case anything happens on their visit. I recommend World Nomads – starting at just $5 a day!
💧Can you drink the water in Canada?
Yes — In all major cities in Canada, you can drink the tap water. There are very few, rural areas that you can't. However, you should never drink river or lake water anywhere in the country! I recommend a Brita Water Bottle for long hikes and backcountry camping to stay safe and hydrated.
🚙💨 Is it safe to rent a car in Canada?
Yes — Renting a car is a necessity in most of Canada! If you want to go on road trips or adventures outside of the major cities, you'll need to rent a car. (Read more)
📲 Will my phone work in Canada?
Maybe — Some American companies work in Canada, but many will not. If your phone doesn't work in Canada, I recommend getting a Canadian SIM card so you can get around and stay in contact with loved ones. We don't have a lot of free WIFI in Canada, so you'll need your phone for maps.
🏩 What's the best way to book my Canada accommodations?
My go-to for Canadian hotels is Booking.com. For hostels, I use Hostel World. If you want a home-y feeling, check out VRBO (which is cheaper and safer than Airbnb).
Or get free accommodations with Trusted Housesitters!
✈️ What's the best site to buy Canada flights?
For finding cheap Canadian flights, I recommend Skyscanner.
🎫 Do I need a visa for Canada?
Likely Not — US, UK, and EU passport holders don't need Canadian visas. However, some other countries do (check here!). And if you plan to stay for more than 4 weeks (an average tourist visa length), you will need to look into visas to live in Canada.